Los Angeles-based experimental jazz collective High Pulp will release their new album Days in the Desert in peak sweltering summer heat on July 28. The titular desert is both literal and metaphorical: it's the Mojave Desert that the band powers through on their many DIY tours around the country, and the band's founder / drummer Bobby Granfelt perceives the desert as "a spiritual quest" as well. Amid the trials of our present moment, you must look within, relying solely on your own instincts to keep moving forward. "You're in the desert and it's a long, lonesome process and a lot of times you have to check yourself to ask 'Is this right? Is this good? Is it too out?'" he says.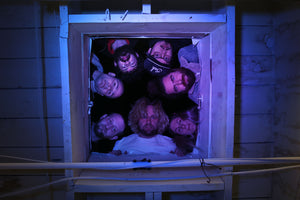 High Pulp's Days in the Desert makes this vision come true, finding the West Coast band fully emerging into their own sound. Rooted in the jazz tradition while also smitten by indie-rock and electronic music, High Pulp was willing to grab from all these sounds at once to pursue something truly their own. Their third full-length album (following 2022's promising Anti- debut Pursuit of Ends), Days in the Desert reveals the band realizing their strengths, deepening their own bonds, and pushing all these skills into a thrilling new sonic vista all but unimaginable just a few years before.
The seeds of the ten songs on Desert took root right at the beginning of the pandemic, when the majority of the band was still based in Seattle (alto saxophonist Andy Morrill and Granfelt have since relocated to Los Angeles). In fact, High Pulp was crammed into the van on yet another sweaty, thrilling US tour when the pandemic first shut everything down, sending the band back home to create a batch of new music. Some of those songs coalesced into Pursuit of Ends, while others went back into the digital vault, earmarked for a later date. Those pocketed tunes became a new launching point in 2022 when the band resurrected, reinvented and reshaped them into Days in the Desert during the interim stages of newly resumed tour life. Together, the songs of this album embody the band's musical heritage while striving towards its future. It's a sound that High Pulp has been striving for since the beginning, drawing on their broad listening and could be equally at home in a jazz club setting, an indie rock festival, or an underground dance party. 
And this record is a party, with an array of all-star guests that push the sounds even further out into the ether. They range from Impulse! harpist Brandee Younger and Madlib collaborator/ Brainfeeder OG Daedelus to rising tenor saxophonist (and fellow Anti- labelmate) James Brandon Lewis and Chicago guitar legend Jeff Parker. But despite the disparate genres represented, it all sounds precisely like High Pulp in the end.
"Desert was both a starting point and a back to the drawing board situation," keyboardist Rob Homan says. Soon after ten songs were earmarked for Pursuit of Ends, another ten were put aside for when the band could all be in the same room again. But as isolation and distance became the new reality, High Pulp adapted, and the songs began to take on a new life. "Frankly, we would not have written it if we hadn't been forced to write it the way we did: at a distance, in Ableton piece by piece, sending projects back and forth," Granfelt said.
"(If You Don't Leave) The City Will Kill You," the album's first single, reveals the band's newfound sensibilities. There's a tingling electronic foundation and nighttime driving backbeat, the horn charts bursting through like passing headlights. It's anthemic and aerodynamic, and right at the break, Daedelus drops in to take it even further out into the cosmos."Dirtmouth" pairs them with Lewis, another collaborator who matches the band's eclecticism, able to tour with Fugazi members and while earning raves from jazz legend Sonny Rollins. "The way that we think of jazz, James is that," Granfelt says. "He told us he liked our non-traditional approach to jazz, which is cool coming from someone having all this credibility within the traditional jazz scene."
The song "Unified Dakotas" aligns High Pulp with the kind of adventurous music that defined the alternative '90s, a mix of post-rock guitars, head-nodding drums, bright horns, and electronics. It made perfect sense to reach out to Jeff Parker of Tortoise and have his guitar ring through the song as it transforms from shimmering jazz-funk to dreamy ambience and back. During a tour right before the recording of Desert, they became enamored by Tortoise's TNT and Stereolab's Dots and Loops. "Those albums were a guiding light for our process," Granfelt says. As a result, individual solos gave way to group interplay: "It became simpler and more accessible, choosing a vibe, an ecosystem to have the listener hang out in."
High Pulp began –as with the most vital bands– as friends just hanging out. Back in 2015, Granfelt convened his friends every Friday night to jam in his Seattle basement, slowing expanding the circle of participants. They played their first official show in 2017 at Royal Room, the venue owned by '80s downtown jazz legend Wayne Horvitz. Granfelt immediately connected with Horvitz and the room's outsider legacy. "In Seattle, we played alongside rappers, rock bands, and we like that. We sit more with rappers or punk bands than we do with traditional jazz bands. We're definitely an outlier."
Far from the bustling music scenes and jazz hotspots of Los Angeles, New York, Chicago, and London, even Seattle can feel like a desert when it comes to staking out your sound in a scene. High Pulp's willingness to follow their musical loves across borders is evident throughout Desert and it allowed the band to take chances it might not have previously. "We completely destroyed things that we had thought were essential to this album, things that we had been thinking about for years," Granfelt says of the album's long recording process. "When we picked them back up, we realized we could keep anything or destroy anything." Homan points out a song like "Never in My Short Sweet Life," which "got rewritten dramatically three or four times, big changes."
By being able to rip it all up and start again, each band member began to feel more comfortable in challenging other aspects of the group dynamic. "We loosened up the roles," Granfelt says. "As long as it got the approval of the members, it doesn't matter who does what, which was a freeing notion." So rather than be beholden to jazz or their roles as the rhythm section or lead instruments, High Pulp felt free to push at other parameters. Working with the likes of Younger, Parker and Lewis also draws them closer to the genre-pushing jazz of Chicago's International Anthem, a label the band openly admires. And it encapsulates their own approach, knowing their musical chops while also favoring the immediacy of a great indie-rock song.
Morrill points to a brief interlude on the album as the perfect example of such freedom. "Robert Pollard" encapsulates High Pulp's risk-taking in its two minutes. "There was a time when we wouldn't have felt comfortable naming the song after the Guided by Voices' frontman," he says. "That's us becoming more confident."
"The word jazz is going to follow our band around forever, which is fine, we love jazz, we are inspired by jazz," Granfelt explains. "But our influences are much wider than that." In embracing the likes of Gil Evans-Miles Davis jazz collaborations in the 1950s as well as '90s lo-fi indie-rock, High Pulp found a middle ground. As the vision for Days in the Desert became clearer, the message was evident. "We embraced more imperfections in terms of our executions, but as a result our compositions got stronger, more solid," Morrill says. "The album started to get simpler. And also a little more human."
Granfelt returns to that titular image: "Emotionally it's real. You're in the desert, there's mirages. And all you have is your own conviction and sense of direction to go." With Days in the Desert, High Pulp wandered the desert to craft an album that sounds close to home.